The Advent of an Advanced Mobile System Featuring Superb Image Quality and Easy Handling

Modern medical facilities require rapid examinations under a variety of situations. This newly launched, state-of-the-art mobile system is available in two forms: the standard type, which further enhances the highly-acclaimed maneuverability and easy handling of Shimadzu mobile systems. The system provides powerful support in medical facilities, thanks to easy positioning in restrictive locations, and outstanding operability, which allows intuitive movement of the unit by the operator. This is truly a reliable mobile system.
Great Image Quality You Can Trust
Blurring suppressed by short exposure time
Displays Images tend to become blurred due to body movements during radiography, especially with children or emergency patients who find it difficult to maintain a fixed posture. The 32 kW maximum power output of High-Power Type delivers excellent image quality and short exposure times.(*1) This ensures sharp images with minimal blurring, even if the patient moves.
Brilliant Driving and Outstanding Operability
Intuitive maneuverability
Shimadzu's acclaimed power-assist function allows the operator to drive the MobileArt Evolution naturally, simply by applying light pressure to the drive handle. The unit moves just as the operator desires, achieving excellent handling when navigating around the wards. The MobileArt Evolution provides unrivalled turining and maneuverability.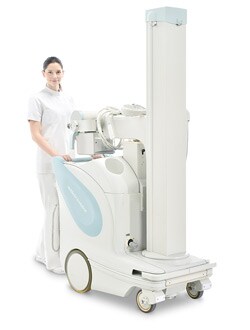 Low driving noise, ensuring quiet hospital environments
The silent motor and enhanced unit rigidity reduce driving noise.Quiet enough for ward radiography even at night.
Safety alarm when driving
To avoid accidents when maneuvering the MobileArt Evolution around crowded medical facilities, an alarm can be used while in motion to alert others to the presence of the unit.
"Inch-mover"
Press the inch-mover buttons on the front of the collimator to inch the unit backwards or forwards, providing easy and precise positioning in confined spaces. As a safety measure, any force applied to the drive handle during inch-mover operations stops movement of the unit. In addition, an interlock prevents X-ray irradiation while the MobileArt Evolution is in motion.
Imaging in Bright Room, Saving Energy
Newly accommodated LED light indicates the irradiation field more clearly
even in a bright room or day time use. Also, long-life LED reduces energy
consumption and frequency of replacement.
Adjustable drive handle height
(*2)
During installation, the drive handle can be set at 4 cm, 6 cm, or 9 cm above the standard height.This makes ward radiography tasks more comfortable for tall operators.
Extra Convenience
Designed for Daily Use
For your daily use, extra storage spaces are provided to store wipes, pens, markers, etc. Grooves have been added for holding the CR cassette vertically while putting a sterile cover on the unit.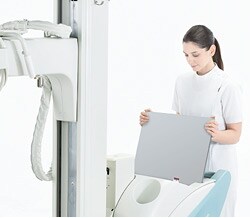 Keyless Entry
(*2)
Setting a password for each user enables keyless use of the system. The Key-less Entry enables to turn on the system by 4 digits key command input without any actual key, which is useful to share the units by several staffs.
This page may contain references to products that are not available in your country. Please contact us to check the availability of these products in your country.