FPD for 3 solutions (Fluoroscopy, Radiography, Universal positioning)
Dynamic and 14x17" (35x43cm) Large Size FPD
F3 package is equipped with dynamic 14x17 inches (35x43 cm) flat panel detector. The large size detector enables almost all your routine examinations, from thoracic and abdominal examination to orthopedics, urology, pediatrics and gastrointestinal examinations.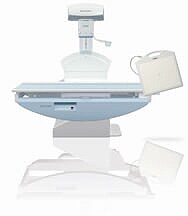 Single FPD Solution
The dynamic FPD is detachable from the table and it is available also for plain x-rays with wall stand, on the tabletop or wherever inside the room. Your examination room will be upgraded to multi-purpose use.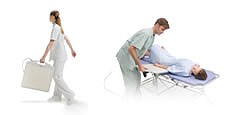 Pursuit of Lower Dose
Pulsed fluoroscopy needs only a half dose of continuous fluoroscopy. BH (beam hardening) filter cuts unnecessary soft x-ray for imaging and can be automatically set depending on the program of general radiographic use. Grid is removable from the table and it is very effective for much lower dose required especially in pediatrics and gynecology.

Wide Range of Clinical Application
The system can be configured as you wish. Elevating table is good feature for patients in wheelchairs or moving patients from stretcher. For orthopedics and gastrointestinal examinations, oblique x-ray projection expands the availability. Various optional accessories as well as system configuration offer you wider variety of clinical operations.